Introducing KS98-2 Multi-function Controller
The KS 98-2 is a programmable compact multi-function controller used to automate industrial processes. It combines PID control, process monitoring, sequence control, data logging and alarm monitoring functions in a compact programmable unit.
As a complete process automation solution, the KS 98-2 helps to achieve highest process performance and transparency, whilst reducing installation cost and control cabinet space.
Automation Made Easy:
Hardware Flexibility- Fully adaptable with up to 12 internal I/O-modules, matching exact application requirements
Easy Creation of applications for simple and complex tasks- function blocks from an extensive library can be used to build an application by easily selecting and connecting the blocks using the "ET/KS98"- graphical program utility
Programmable Functionality- reliable sophisticated control strategies proven in many applications available from our function block library
AVAILABLE TO SHIP- No back-orders! Get your stalled project, down equipment, or cancelled orders up and running! Components in stock for fast on-time delivery. Will the KS98-2 be your solution to supply chain issues? Fill out the form below for application assistance!
Key Features and Benefits of KS98-2:
Modular automation system in a 1/4-DIN controller housing (96 x 96mm)
High performance measurements
Sophisticated control
Math and logic functions
Embedded data logger
Operator Interface with Color Display & Touch
User defined application screens
Alarms and alerts with Icons or clear text
Always accessible USB interface on front fascia
Expandable with modular inputs and outputs
Ethernet and common fieldbuses
Simulator to test before installation
Applications:
Sophisticated Process Control
Complete Automation of Small Applications
KS98-2 Functionality:
Multi loop control
Sophisticated process control
Profile control
Complete automation of small applications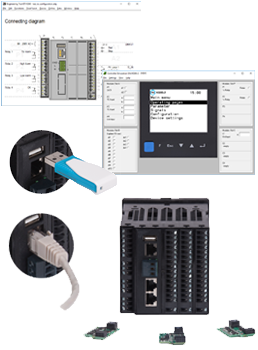 ---
Interested? Fill out our form below.