Vaporized hydrogen peroxide (VHP®) is a vacuum sterilization process that operates under low-temperature conditions and has traditionally been used for small objects such as reusable medical instruments, pharmaceutical containers, pre-filled syringes, electronic medical devices, and moisture or temperature-sensitive materials. But in an ever-growing market, VHP® sterilization applications can range from:
Single-chamber units for small objects
Pass-through chambers for transferring objects between areas in the pharmaceutical industry
Mobile cart units for decontaminating small to medium-sized spaces or rooms up to complete facilities
Complete integrated systems for bio-decontamination of large spaces, or complete facilities.
The fast-paced progression of VHP® is due to its ability to break down hydrogen peroxide (H2O2) into environmentally safe by-products (water H2O, oxygen O2), and the potential health hazards associated with the alternative method of Ethylene Oxide (ETO) gas sterilization.
The VHP® process has three phases: conditioning, sterilization, and aeration/post-conditioning. These phases occur in a single chamber under deep vacuum conditions usually in the range of 1-10 millibar (0.03-0.3 inches Hg), with a typical temperature range of 28-40°C (82-104°F). The total cycle time varies depending on several factors including cycle temperature, the type of object (component, assembly, material, etc.), and the weight of the load.
Application Challenge:
Finding critical components with exceptional accuracy and repeatability for monitoring and controlling the process variables through all phases that occur in VHP® Sterilizers.
Precise, consistent control and monitoring of variables such as temperature, vacuum pressure, RH, and H2O2 (Hydrogen Peroxide) vapor delivery is required for an effective vaporized hydrogen peroxide sterilization process. A simplified graphic example is shown below.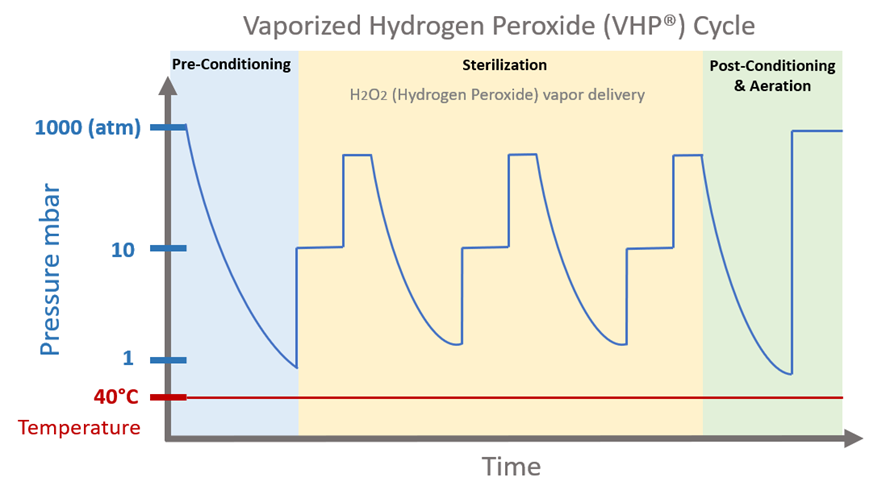 Application Solution:
Gems Sensors & Controls and Setra provide key components across several product lines to ensure long-lasting dependable results in stand-alone VHP® Sterilizers, bio-decontamination equipment, and integrated systems. Accurate, Reliable, Stable, and Repeatable. Gems & Setra offer a robust product portfolio with an excellent price-to-performance ratio.
Setra Model 730 Vacuum Capacitance Manometer

High Accuracy: ±0.25% of Reading
Tensioned Diaphragm Provides Superior Performance
Wide Compensated Operating Temperature
Fast Response Time with Low Circuit Noise
Not Sensitive to Environmental Changes
Exceptional Overpressure Design
CE & RoHS Compliant

CAL 3200 Simple PID Temperature Controller

32nd DIN Compact Single Loop controller
1 x 4 digit LED display with 2 output LED
Easy-to-use autotuning
Simple menu-driven configuration
Removable terminal block for easy wiring.
IP66 protection
Output Functions - Heat, Cool, Alarm
Input Type - Thermocouple, RTD, Linear: 0 to 50mV
Control Type - PID heat only, PID heat cool , ON/OFF
Certifications - CE, UL

KS98-2 Modular Automation System

Multi loop control, Profile control, Sophisticated process control
Complete automation of small applications
Embedded data logger
Operator Interface with Color Display & Touch
User defined application screens
Alarms and alerts with Icons or clear text
Always accessible USB interface on front fascia
Expandable with modular inputs and outputs
Ethernet and common fieldbuses
Simulator to test before installation
Other Gems Product Offerings for Vaporized Hydrogen Peroxide Sterilization:
Gems Sensors and Setra's products have been field-tested around the world. Partner with us for product solutions in your Vaporized Hydrogen Peroxide sterilization application today.