Oil & Gas wellheads can be seen as you drive through the countryside dotting the landscape. The wellhead is the interface between the oil and gas (that is below the surface and under pressure) and the structural connections above the surface to harness the fluid. Each gas wellhead can produce enough energy to power 200 homes for one year.
Handling and monitoring the gas requires that all systems in place have Hazardous Location (HAZLOC) certifications. Each installation is different depending on factors such as the percentage of risk, how far away is the risk, what is the fluid/gas, etc.
Many wellhead installations require an Explosion Proof pressure sensor. An explosion proof pressure sensor differs from an industrial pressure by being able to contain the flame or the explosion in case an accident was to occur
Challenge: Finding a pressure sensor vendor that supports various Hazardous Location applications, varying installation locations and has Explosion Proof Pressure options
Not every pressure manufacturer has options for HAZLOC areas. Many suppliers just focus on the standard industrial or laboratory style sensors. Manufacturing a HAZLOC certified product requires that a company understands the requirements to fulfill the needs of the as well as adhere to the strict guidelines set forth by the certifying body.
Also, HAZLOC rated explosion proof sensors can be installed anywhere in the world from the heat of Texas and the Middle East to the cold of Alaska, Canada, and Greenland. A robust solution will need to not only survive these wide temperature fluctuations but also perform above the specifications.
Solution: The Gems 31EP/31EP Explosion Proof Hazardous Location Pressure Sensors
Gems manufacturers a wide variety of Pressure Sensors used in HAZLOC applications like those in the Oil & Gas markets. Some are medium risk and are rated for Intrinsically Safe HAZLOC applications, some are lower risk and are rated for Non-Incendive HAZLOC applications.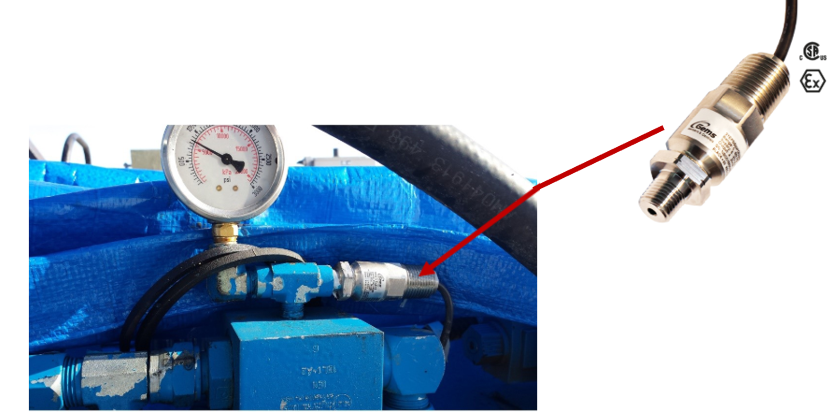 For the higher-level applications requiring a pressure sensor
that is Explosion Proof rated, the CSA Approved 31EP/32EP
are available. The 31EP/32EP sensors utilize
a ½" conduit electrical connection to safely connect the
wiring to their wiring system.
The 31EP/32EP Explosion Proof Sensors also feature a very wide temperature operating range of -40C to +95C. This allows the sensors to operate safely and accurately in very cold and very hot temperature climates.
If your application requires an ATEX approved Explosion Proof Pressure Sensor, then please take a look at our ATEX approved 31EA/32EP series of pressure sensors also on the 31EP/32EP data sheet.
Features & Benefits of the 31EP/32EP:
Explosion Proof Certified = Able to perform in the most severe HAZLOC application

Exceptional Long-Term Stability = No need for costly field calibration or replacement

Thermally compensated = Consistent performance under wide temperature conditions

17-4 PH Stainless Steel Sensing Element = Wide media compatibility

304 Stainless Steel body = Able to with stand harsh chemicals and gasses

Sealed to IP67 = resists heavy water spray, power-washing

Enhanced RFI, EMI, and ESD Protection = Clear Uninterrupted signal in harsh electrical environments

Computer Controlled Calibration = High 1:1 Interchangeability from unit to unit

Passes 40G Vibration test and IEC Free Fall test = Rugged design to handle excessive shock and vibration conditions