Modern fire trucks are full of numerous controls and fluid sensors: water level, water pressure, water flow rate, tire pressure monitoring, vehicle grade, slope indication, etc. Keeping an eye on all the critical systems that are running are also being improved. As the truck is driven thru the city at full speed and loaded with equipment and water, ensuring that the steering system is working up to specification is very critical.
Sensors are now being added to the power steering mechanism to ensure that the fluid level is to specification lessening the chances of a break down. When steering fluid (oil) is too low, the steering can become unresponsive.
Challenge: Finding a reliable, robust oil level sensor that will survive varying types of environment conditions, has a long-life expectancy and performs on demand.
When a fire truck is dispatched to an active fire, there is no time to make sure everything is in working order. There is no time to check all the systems are ready to go. The firefighters get the call to jump in the fire truck and start moving as soon as possible. They need to be ready to go on time, every time. The truck needs all its sensors to provide accurate feedback so they know the truck will be safe as it drives at speed to the fire. Fires can happen in any part of the world so extreme cold and hot temperatures can be expected. Also, driving a heavy truck in the city at speed can expose the truck's systems to high shock and vibration environment.
Optical solid-state liquid type level sensors are not ideal for oil for they can become coated due to the additives used. This can lead to false signals. Capacitive type sensors are also not ideal for oil level detection. The low dielectric constant found in oils is too low to properly trigger a capacitive type sensor.
Solution: The Gems XLS-1 Solid-State Liquid Level Sensor
The XLS-1 Liquid Level Sensor utilizes an Ultrasonic sensing element to determine if there is liquid present or absent. It works off the ability of the Ultrasonic sound to pass through the media or fluid.
When liquid is present - some Ultrasonic sound is allowed through the gap and into the media and triggers the sensor to be on.

When liquid is not present - most of Ultrasonic sound is reflected back to the crystal and the sensor is off.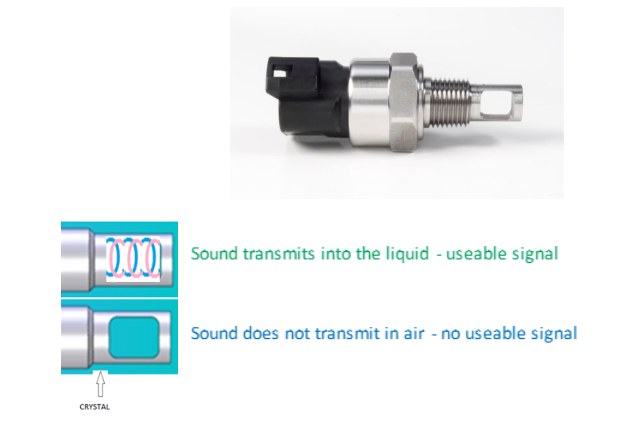 Utilizing no moving parts in a Stainless-Steel housing, the XLS-1 is a perfect solution for an environment like a Fire Truck.
The XLS-1 series features:
Accuracy: +/- 1 mm

Response time: 0.25 seconds, optional time delays for sloshing as needed

Operating temp, Fluid: -40°F to +257°F (-40°C to +125°C)

Operating temp, Ambient: -40°F to +185°F (-40°C to +85°C)

Enclosure: IP67 Per IEC60529IP6K9K Per DIN40050-9 (sensor only)

Port sizes: 1

/4 ̋ NPT, 1/2 ̋ NPT, M12x1.0, M12x1.5, 1/2 ̋-20, G1/4

Electrical connections: 3 Pin Deutsch DT Series Connector, 18 AWG wire or cable

Vibration: Per IEC 60068-2-6; 20 m/s2, 10-55 Hz; MIL-STD-202G, Method 204D, 10G, 57-2000 Hz

Shock: Per IEC 60068-2-27; 15G, 11ms