For More Information on the PS61 >
When a construction worker or repairman needs to reach high up inside a building to work on an overhead light or outside of a building to work on an exterior window, a scissor lift (or mobile aerial work platform) is employed. A scissor lift safely lifts that person to high elevations while giving them a safe platform to move around on. These lifts can be used all day long every day of the week in busy environments and they need to be reliable and safe.
The scissors (the x-pattern created by the levers to lift the platform) are operated by use of hydraulic pumps on-board the vehicle with a control panel mounted on the platform. As the platform is used, the operator will move levers up and down on the control panel to add more pressure to the system to lift the platform or less pressure to the system to lower the platform. Pressure switches are mounted into the hydraulic system and aid the control levers in making the determination if more or less hydraulic pressure is needed in the system.
Application Challenge:
Finding a heavy duty and reliable pressure switch that can survive a high number of cycles hydraulic system on a scissor lift can see a lot of repetitive use which leads to a high number of cycles on the system. As the operator fine tunes the height of the lift, they can turn the hydraulic system on and off numerous times forcing the pressure switches to cycle on and off. Over time, less robust pressure switches can break down and give false readings.
Also, as loads are added to the platform (people, material, wiring, pipes, roofing, etc.), the hydraulic system will see spikes. If the platform is elevated in the air, it is already under pressure. If the operator is to remove a bundle of heavy material (like roofing shingles) from a rooftop and drop them on the platform, the pressure switches will see these large spikes in hydraulic pressure since they are mounted directly to the hydraulic system.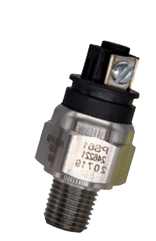 Application solution:
Gems PS61 Series Pressure Switch - The Gems PS61 Series Pressure Switches are designed for very high number of cycles as well as high proof pressure applications. A scissor lift, during its daily operations, can see a very high number of cycles. The PS61 is designed for at least 2,000,000 full on and off cycles. Also, as the scissor lift operates up and down and loads are placed on it and removed, hydraulic shock can be seen on the system. The PS61 has a very high Proof Pressure specification of 6000 to 7000 psi (414 to 483 bar). Proof Pressure is defined as the amount of pressure a device can tolerate without effecting its performance, fluid sealing, or set point.

The PS61 Series of Pressure Switches make the ideal solution for monitoring pressures in your hydraulic system.