Generators are used to provide electricity in the event of a power outage or to remote areas that don't have access to the main electrical grid. Electrical generators typically run off diesel or gasoline, but there are other power sources available. This fuel source powers the combustion engine which in turn spins a group of magnets around a coil of wire. We know that elements like copper and aluminum have electrons spinning around the nucleus. As the magnets are spun around the coil of wire, it pushes the electrons in the wire and creates an electrical current.
Many diesel and gasoline powered generators require level sensing for the various liquids used within the system. These include fuel (gasoline or diesel), lubricating oil, and coolant liquid. Each liquid level is crucial to the efficient operation of the generator.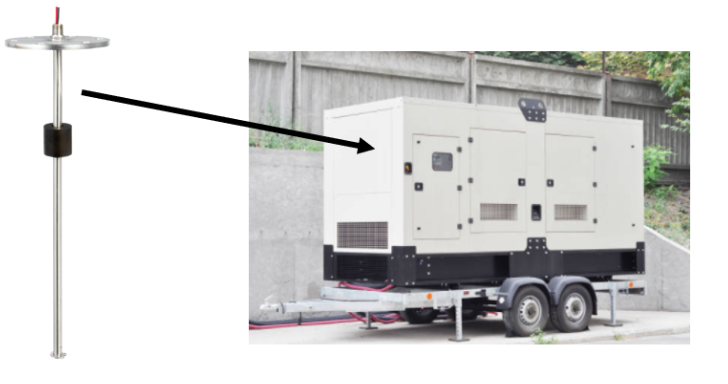 Challenge: Finding a cost-effective small level sensor that can handle the high pressure, temperature and vibration that occurs on a power generator.
Solution:  Gems XM/XT-700 Level Sensor
The Gems XM/XT-700 level sensor is a compact float type level transmitter. Gems XT/XM-700 level transmitter is constructed of all either 316 stainless-steel or brass ensuring rugged durability in an extreme application like a power generator. These materials ensure they can withstand the high pressure and high temperature and still perform reliably. With six different mounting styles, 1/8" NPT, 3/4" NPT, 1" NPT, 1-5/16-12 UNF, 3/8-24, and 1 ¼" NPT, it can be compatible with multiple different tank openings.
In addition, the XM/XT-700 can be configured with multiple output signals, including proportional voltage, 0-5 VDC, 0-12 VDC, and 4-20mA output. The 'XM' signifies a proportional voltage output, and the 'XT' signifies a conditioned output. This allows the level sensor to be compatible with any type of controller or display. This float-based level sensor provides accurate level measurement with a 4mm resolution. This is crucial for small tanks so it can sense small changes in the liquid level. Since this is a direct reading and not inferred (through the air technology) it is not affected by changes in temperature, pressure, or moisture in the air. This ensures a reliable level output which ensure high uptime of power generators.
With a max temperature range of 300 degrees Fahrenheit (float dependent) it can withstand being located close to the combustion engine and still provide an accurate level measurement. With an integral electrical connector or ½" NPT conduit adapter, it is protected from moisture ingress and can be installed on Generators that are exposed to the elements with no risk of moisture intrusion. With a maximum pressure rating of 300 PSI it can withstand being installed in a pressurized tank with no effect on it's accuracy.
Below are additional benefits of Gems XM/XT-700 Level Sensor:
Highly configurable to meet the

specifications of multiple tank types

Custom lengths available with only a 3 week build time

Highly reliable

,

repeatable,

and proven

reed switch technology has been

tested and used for decades

Compact size fits in tanks

as small as several inches deep

Simple installation

saves OEMs labor time and cost
The above characteristics make Gems XM/XT-700 an ideal solution to work in Power Generation.
Additional Sensors Used in Power Generation: