On October 26, BLOODHOUND SSC, a British supersonic land vehicle that is currently in development, made its first public run. In front of assembled media and guests, the 5.5-ton vehicle accelerated to 210 mph in 8.0 seconds from stationary. The trial was a significant milestone in testing the car's systems as it continues its pursuit of reaching new World Land Speed Record of 800 mph in 2019 and 1,000 mph in 2020.
Gems is happy to support this project through use of its high-performance sensors on some of the most crucial parts of the vehicle, including the Jet engine and the Jet A1 fuel tanks.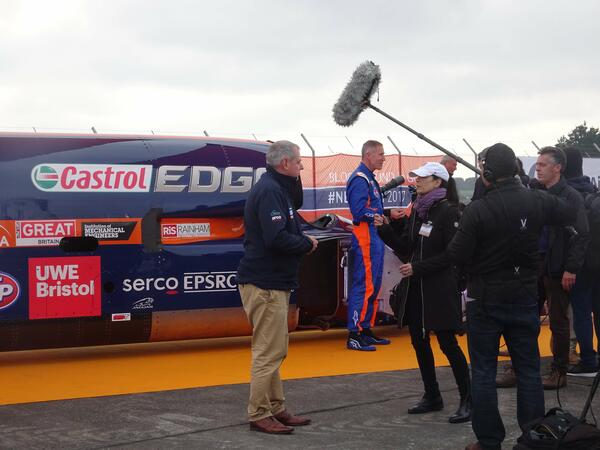 Mark Chapman – Chief Engineer and Andy Green – Driver, being interviewed by the worlds media
Gems' support also includes the hydraulics for the wheel brakes. On BLOODHOUND SSC, the wheel brakes do not include an anti-lock braking system (ABS). However, the brake pressure from the 3100 Series pressure transducer from Gems Sensors is displayed on the monitor inside the driver's cockpit which enables the driver and current Land Speed Record holder, Andy Green, to ensure that he does not apply too much force and lock the wheels. For very high speeds, Gems has provided pressure sensors for the manifold assemblies on the high-speed air brakes which use mechanically linked hydraulic rams to open two perforated doors on either side of the car.
Inspiring a new generation of engineers
Over 10,000 people watched the BLOODHOUND runs at Newquay, UK including children from schools across Cornwall and Devon, UK. In addition to the goal of setting the new world land speed record, the Bloodhound SSC Project's mission is to inspire the next generation of engineers by the promotion of STEM (Science, Technology, Engineering and Mathematics) education subjects. Watch the Education Day video here.
Next steps: BLOODHOUND 500
In October/ November 2018, BLOODHOUND SSC will be taking the car to the Hakskeen Pan in South Africa, to run at increasingly higher speeds up to 500/600mph on a specially prepared track in the desert. After each run they will verify the measured telemetry against the expected Computer Aided Fluid Dynamics to verify the cars performance as the speed builds.
This will be a key milestone in the BLOODHOUND journey. Stay tuned for more updates on this exciting and ambitious project!
Read our May 2017 blog for additional information about how Gems supports BLOODHOUND SSC.