The Gems Sensors story began over 60 years ago with our first commercial success being a bilge switch for the small boating industry. Since 1955, our catalog has been continuously expanding and evolving, with each new product introduction stemming from a technology breakthrough or customer success story. The experience of our engineers is built upon thousands of successful applications, and focused on design ingenuity, continuous quality improvements, smart engineering, cost optimizations, waste reductions, and an unwavering commitment to quality.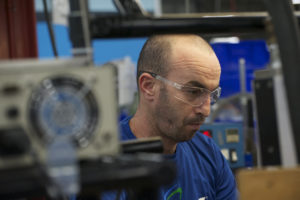 How do we achieve these goals? We employ lean manufacturing concepts. Each of our finely tuned manufacturing cells is designed to provide our customers with the finest product available with the shortest lead times in the industry. But what exactly is lean manufacturing, you ask?
Lean manufacturing explained
In short, "lean manufacturing" is the continual, iterative process of streamlining and eliminating waste from the manufacturing process. There are several key strategies and lean management techniques that can be employed to minimize waste without compromising quality. The idea of lean manufacturing borrows heavily from the Toyota Production System, which the company used to become a dominant force in the global auto industry.
In the context of lean manufacturing, there are seven types of waste that need to be continually addressed and eliminated or minimized wherever possible. They include:
Transport: Moving products during manufacture
Inventory: Includes parts, partially-assembled product, and completed inventory
Motion: Unnecessary movement of people or machinery
Waiting: Down-time or other interruptions of productive work.
Overproduction: Producing more than the demand requires
Over-Processing: Caused by poor designs or tooling
Defects: Resources involved in processing or correcting defects
Lean manufacturing seeks to minimize these wastes, eliminating anything that doesn't add value for the customer. With these goals in mind Gems Sensors strives to listen to our customers, and approach new products or changes to our existing catalog with an eye toward making a better product, with a minimum of waste.
Listening to our customer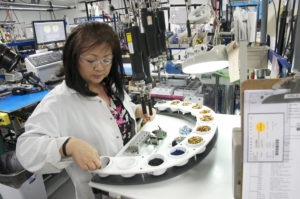 Real-time customer feedback is critical. Our design and development process is fully transparent to ensure that each supplied end product consistently exceeds customer expectations.
When Gems engineers collaborate with a customer, we aim to better understand the application. Certain application nuances can reveal external challenges within the installation environment—independent of the sensor itself—that affects overall measurement accuracy.
Once a solution is implemented, customer suggestions for next-generation product enhancements begin. This is how Gems Sensors' product portfolio remains an ever-evolving resource for universal measurement challenges.
Applying value analysis/value engineering
Gems engineers understand that applying value analysis/value engineering (VA/VE) to the production element with the longest lead time allows us to implement lean manufacturing most effectively across the entire cycle.
VA/VE is further implemented by directly collaborating with each customer's own in-house engineers. The goal is a well-planned product with enhanced reliability and streamlined production costs.
Sourcing globally for expedited lead times
Successful lean manufacturing techniques allow Gems to offer its customers high-reliability OEM volume products with shorter lead times than many industry off-the-shelf solutions. Thousands of standard catalog parts can be quickly modified for a customer's unique requirements and shipped in just a few days. To help achieve this rapid response, Gems stocks many semi-finished items, which only require the addition of connectors, specialty housings, or supplemental components.
Self-contained, dedicated manufacturing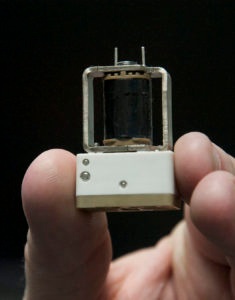 Once a sensing solution is approved, Gems sets up a fully dedicated manufacturing cell to build a small lot for in-application prototype testing. The pilot run allows us to quickly identify any potential problems prior to full-scale OEM volume production. Each production step occurs inside of that same dedicated manufacturing cell, allowing Gems to monitor and control both quality and costs while minimizing waste.
Leaner, faster, better
By adopting an integrated, collaborative and quality-focused lean manufacturing approach, Gems can concentrate entirely on customer needs. Whether a requirement calls for a basic off-the-shelf product or a highly customized design, each new project receives the same level of attention to detail, application of VA/VE, and commitment to engineering excellence. This relentless focus on quality, efficiency and innovation enables Gems to provide some of the most reliable, trusted products for multiple industries.
Learn more about Gems Sensors' history of innovation and growth.