Gems Sensors manufactures Visual Level Indicators called SureSites. SureSites offer an excellent solution to tank level indication with no power necessary to operate. Highly visible magnetic orange and white flags are easy to read, even at great distances. SureSites are also extremely durable compared to easily breakable sight glasses because they are constructed from stainless steel, PVC, CPV or PVDF.
The most common versions are mounted on the sides of tanks. However, Gems also manufacturers a Top Mount version when the application doesn't allow for it to be mounted on the side. Specifically, when the tank is underground, or too many obstructions surround the tank.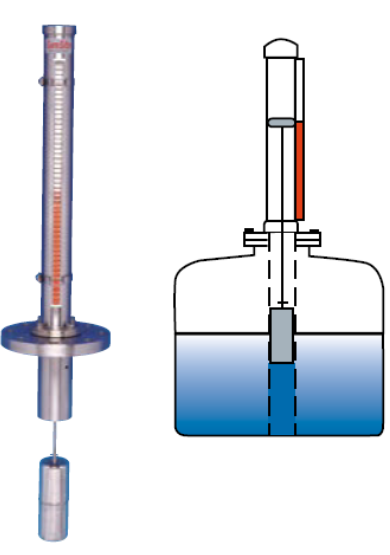 They operate similarly to a side mounted SureSite, except the float within the tank is connected to a rod. At the end of the rod is the magnet which will flip the flags to indicate the level in the tank. Since the float must have enough buoyancy for itself, the rod, and the magnet, there are some limitations on the depth of the tank versus the specific gravity of the liquid. The lighter the liquid, the less buoyant the float will be and thus the less weight it can support which in turn limits the rod's length.
Top Mount SureSites still offer the same great features of a typical side mounted SureSite. You can choose to add electronic transmitters and switches, scales, heat tracing, insulating blankets, and frost proof lens.
Click here to view the Top Mount SureSite form.
Please contact Gems to specify a Top Mount SureSite for your application.