Alarm panels are crucial to ensure safe and efficient operation of numerous tank applications. The TA Alarm panel may be used for High Alarm to prevent over filling of a tank, or Low Alarm to alert personnel of a shortage of material. Either condition is vital to ensuring high up time and preventing equipment from being damaged. In addition, if your tank is located in a hazardous location the TA alarm panel is rated Intrinsically Safe to limit and chance of sparking or arching.
Challenge: Finding an approved, affordable, and reliable alarm panel to provide either high or low alarm notification visually and audibly.
Solution: TA73X Alarm Panel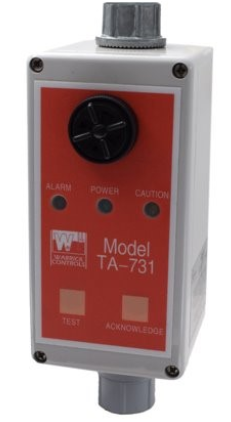 The TA73X Alarm panel is UL 913 Intrinsically Safe approved. This allows the TA73X alarm panel to be used with non-voltage storing sensors to enable the installation in a hazardous location. When possible, rendering a sensor Intrinsically Safe is typically a more cost-effective solution then running explosion proof conduit and sensors.
The TA73X alarm panel is constructed of polycarbonate housing ensuring it is corrosion resistant and helps prevent moisture intrusion. In addition, the TA73X alarm panel has two alarm channels which allows for two sensors to be installed in one tank as a high, high-high configuration. Or you can wire the alarm panel between two tanks to safe cost as it performs double duty.
The Intrinsically Safe TA731X alarm panel also has a set of SPDT auxiliary load contacts. This allows users to connect to a remote panel, increasing the potential area that an alarm will be seen and heard dramatically. The alarm panel has a 26K ohm sensitivity rating which allows users to use either conductivity probes or dry contact float switches as their sensor. With an audible alarm of 97 decibels and clear LED indicators the TA73X alarm panel can easily alert personnel of a fault condition!
Additional Sensors used with the TA73X Alarm Panel