Alarm panels are crucial to ensure safe and efficient operation of numerous tank applications. The RA431 Alarm panel may be used for High Alarm to prevent over filling of a tank, or Low Alarm to alert personnel of a shortage of material. Either condition is vital to ensuring high up time and preventing equipment from being damaged. In addition, if your tank is located outdoors the NEMA 4 polycarbonate housing can withstand the elements and be impervious to corrosion.
Challenge: Finding an approved, affordable, and reliable alarm panel to provide either high or low alarm notification visually and audibly.
Solution: RA431 Alarm Panel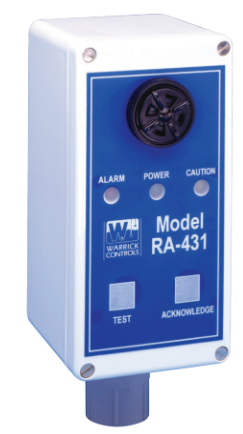 The RA431 Alarm panel is UL 508 Motor Control approved and with a NEMA 4 rating the RA431 is constructed of weather tight polycarbonate. This allows users to install the alarm panel outdoors. Even if the tank is located indoors, the audible alarm will alert maximum amount of personnel within surrounding areas. The polycarbonate is naturally resistant to corrosion ensuring years of useful life even when exposed to the elements.
The alarm panel has a 26K ohm sensitivity rating which allows users to use either conductivity probes or dry contact float switches as their sensor. The alarm panel accepts standard 120 VAC and can work with sensors that accept 12 VAC or 12 VDC. In addition, the panel comes standard with a Yellow Caution LED that indicates a fault condition has occurred even if the alarm condition has gone away. This allows users to be aware of an alarm condition even if they were not present when it happened. With an audible alarm of 97 decibels and clear LED indicators the RA431 alarm panel can easily alert personnel of a fault condition!
Additional Sensors used with the RA431 Alarm Panel:
Learn more about Fittings and Probes HERE