Agriculture machinery allows farmers to produce enough food to feed the world. From combine harvesters to planters, sprayers and beyond, Gems 1100 Series Pressure Sensors provide the pressure sensing capabilities to these machines to get the job done right.
Modern agriculture sprayers use pressure sensors to monitor pressure of the spray bar, allowing precision application of fertilizers and other chemicals.
Challenge: Finding a pressure sensor that can withstand high vibration, inclement weather and harsh chemicals, without breaking the bank to address the needs of agriculture applications
Most pressure sensors fail to meet IP ratings or do not have have wetted materials and electrical connection options needed for agricultural applications. The other pressure sensors on the market are also expensive and difficult to source.
Solution: 1100 Pressure Sensor for Agriculture Applications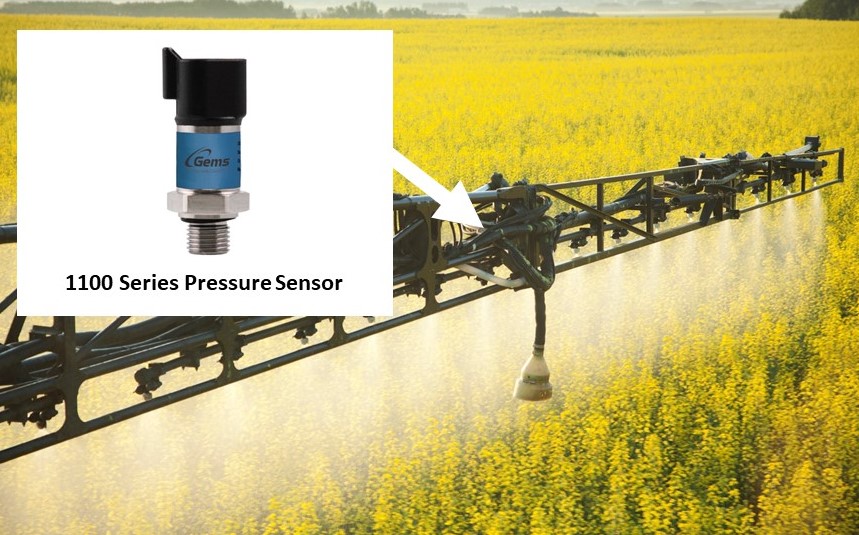 Our 1100 Pressure Sensor has stainless steel wetted parts, perfect for a variety of medias. It can handle up to 40 Gs of vibration and has an IP67 rating.
An additional bonus - the 1100 Series Pressure Sensor has passed the rigorous testing standards of the largest agriculture OEM manufacturers and is the trusted choice for many.
If you are looking for a reliable and cost-effective pressure sensor that your customers can count on, the 1100 Pressure Sensor is the solution.
Gems offers a wide variety of sensor solutions for other agriculture applications that you may be interested in.
Additional Sensor Options for Agriculture: