Pressure Sensors in Fire Protection Systems
Fire protection systems are used extensively in building services to protect the content of the building and the safety of the occupants. These systems are ready to disperse large amounts of water from sprinkler heads to aid in fire fighting.
Typically located in the boiler room, a fire pump's skid package includes a 15-400 Hp electric or diesel driven motor, a centrifugal water pump, and a controller designed to monitor & control water pressures. The piping systems are extensive and are always under constant water pressure. In the event of a fire, the sprinkler heads will detect heat and open, thus causing a water pressure drop in the system. The fire pump controller detects the drop in pressure and immediately activates the fire pump to generate more water pressure to help continue and douse the fire.
Challenge: Meet stringent FM and UL certification standards for sensors to be used on fire pump controller applications
The fire protection industry is highly regulated and governed by the national fire protection agency (NFPA-20). All systems are required to be certified against stringent FM and UL-218 standards for considered use on fire pump controllers. High EMC & electrical isolation as well as ruggedness, water hammer protected, stability and reliability are key criteria tested against to be certified.
Solution: 3500 Series Pressure Transducers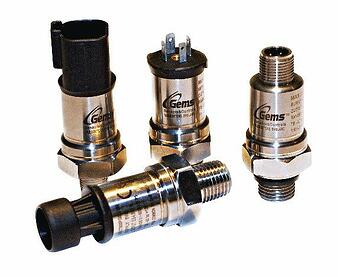 Gems 3500 Series Pressure Transducers have been certified and proven reliable on the system level and component level for use in fire pump controllers. Offering high stability and 4x over-pressure protection allows customers to accurately and reliably help control water pressures to help extinguish a fire. Our 3500 Series Pressure Transducers ensure proper operation of the fire pump controller in this mission critical application.