Hydraulic load moment indication (LMI) is a common overload warning system built into Off -Highway Vehicles, including cranes and excavators working in the construction or offshore industry. The Overload Warning System ensures equipment safety and longevity. The system enables the operator to monitor the equipment's rated capacity through advanced operational parameters, such as hydraulic pressures, boom sequencing, outrigger pressure monitoring, range limiting, and wind speed. The crane's cable reel is connected to a load cell controller and pressure sensor. The system displays the pressure of the front-end load being held up by the crane as well as the outriggers on both sides of the crane. The LMI system detects if the crane is overloaded and warns the operator, and reduces the load to prevent an unsafe condition. The pressure sensor is expected to maintain performance under heavy shock and vibration in harsh environments.
The Load Moment Indicator (LMI) complements the operator's skill by providing the information needed to make the demanding lifts required of modem cranes and displaying it in the operator's cab.
Using a heavy-duty pressure transducer, the LMI monitors all crane functions and provides the operator with a continuous reading of the crane's rated capacity. The readings continuously change as the crane moves through the motions needed to make the lift. If hazardous conditions are approached, the LMI is designed to warn the operator by sounding an audible alarm and illuminating a warning light.
The LMI also provides the operator with information concerning certain geometrical data such as main boom length corresponding to the selected operating code, main boom angle, jib angle, jib length, operating mode and weight of the load on the hook, and the total weight being lifted by the crane.
Compliant with the highest European safety standards EN ISO 13849-1, the system has the capability to centralize the safety information, engine data, and camera images all on one clear, full-color display.
Challenge:
Finding a rugged, compact pressure sensor with high overpressure capability to survive harsh environmental conditions and withstand hydraulic pressure spikes for integration in a hydraulic load moment indication system.
Solution: The 3100/3200 Series Heavy Duty Pressure Sensor
Gems compact 3100/3200 series heavy-duty pressure sensors can withstand high vibration to MIL-STD-810E and 40G shock with 3X over-pressure capabilities.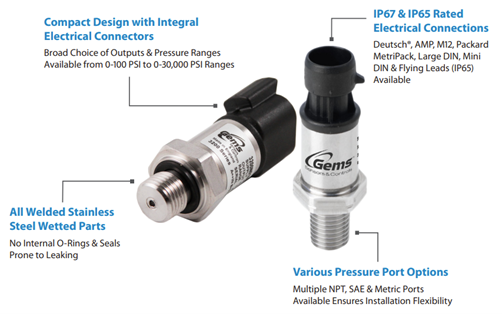 Features of the Gems 3100/3200 Series Pressure Sensors
Exceptional Long-Term Stability = No need for costly field calibration or replacement

Thermally compensated = Consistent performance under wide temperature conditions

304 Stainless Steel body = Able to withstand harsh chemicals and gasses

Sealed to IP67 = heavy water spray, power-washing

Enhanced RFI, EMI, and ESD Protection = Clear Uninterrupted signal in harsh electrical environments

Computer Controlled Calibration = High 1:1 Interchangeability from unit to unit

Passes 40G Vibration test and IEC Free Fall test = Rugged design to handle excessive shock and vibration conditions
Learn the differences between our 3100 and 3200 Series, which is right for you? - click here
Application Help and Get a Quote Here >