Grain harvesters (or combines) are large farm implements that cuts and gathers large amounts of grain, hay, alfalfa, and other agricultural products. These harvesters have evolved to become quite powerful as well as technologically advanced. Most have GPS navigation, air-conditioning, touch panels, etc. to make the machine easier to handle and more productive.
As these large harvesters are moving thru the field, active feedback from all systems is being monitored by the ECM (Engine Control Module). The ECM monitors drive speed, throttle position, temperature, humidity, and a host of other critical parameters. One parameter that is critical is monitoring the brake pressure. As the operator pushes on the brake, pressure in the system increases, the pressure switch changes state and a signal is sent to the ECM so that it knows that the brakes are on. Also, the ECM is monitoring the throttle so that if the brake is on as well as the throttle is being depressed, the ECM will not allow the engine to go to full power. This reduces wear and tear on the machine.
Application Challenge:

Finding a rugged pressure switch that can provide an accurate signal when used heavily in an aggressive environment and withstand potential spikes. The switch can see some high spikes during use. An operator may need to stop suddenly and "slam" on the brakes. This causes immediate and high pressure in the system. Mounted on a farm implement, the pressure switch required will need to be able to handle the shock, vibration, heat, and water spray to survive. Plus – it will need to be able to endure these pressure spikes to avoid failure.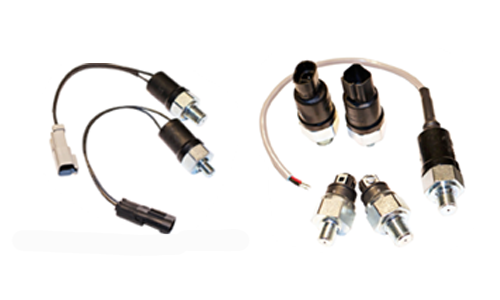 Application Solution:

The redesigned PS61 Series Pressure Switch has been extensively tested to withstand up to 7,000 psi (483 bar) of pressure without incurring any type of damage. This is critical in agricultural harvester applications. Also, MIL-STD 202G testing for vibration and shock has been achieved. The electrical connection backends have been designed and tested to IPX7, IPX9K, and IP6KX so that they are resistant to dust, high-pressure/high-temperature washdown, as well as submergence.
The PS61 Series Pressure Switches have been designed and tested to survive for over 2,000,000 cycles so that the farmer can be assured that their equipment will have a long life.
Adding the PS61 Series Pressure Switch to your harvester braking application is a major asset to ensure your equipment will have a long life and low maintenance requirement.

Features of the Gems PS61 Series Pressure Switch:
Exceptional Long-Term Stability = No need for costly field calibration or replacement
Operates over 2,000,000 cycles = long life without need for replacement
Sealed to IPX7, IPX9K, and IP6KX = heavy water spray, power-washing, submergence
Computer Controlled Calibration = High 1:1 Interchangeability from unit to unit
Passes MIL-STD-202G Vibration, Shock, and Free Fall test = Rugged design to handle excessive shock and vibration conditions
Industry-standard pressure port options = will work in most applications
Industry-standard electrical connection options = will work in most applications

Industries:

Adjacent Products:
3100/3200: hydraulic oil pressure
XT/XM-700: hydraulic reservoir tank level, links product landing pages
LS-7: fluid reservoir tank low/high level