Our LS-800 is designed for exceptional versatility in your challenging environments. From water and day tank level sensing to pump and lube oil level control, the LS-800 can be configured to serve your most demanding applications.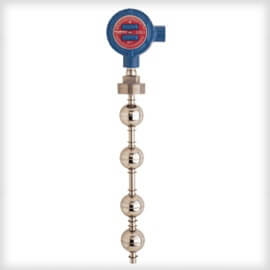 The LS-800 product line offers five standard options which reduces design constraints and enables customers with complex systems to avoid lengthy design changes. And, if your application requires explosion proof, we have configurations available to meet your application concerns.
Other benefits include:
Rugged design
Configurable lengths and actuation levels
Multiple mounting options
1-6 actuation levels
Adjustable mounting and temperature sensing
Like what you're hearing? Download our FREE LS-800 Float Type Level Sensor Product Guide now!