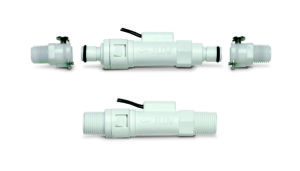 Industrial strength. That's how we describe the Gems FS-380P series flow switch. The FS-380P's lower pressure drop reduces the risk of clogging, while its compact inline design makes it tolerant of particulate and less susceptible to sticking than alternate designs.
The FS-380P's primary construction material is polypropylene making it lightweight and low cost. It is tolerant of harsh environments and can also withstand wash-downs, flushing and harsh chemicals.
The FS-380P is an ideal choice for coolant applications requiring reliable flow detection in HVAC, semiconductor, welding, medical (sterilization and cosmetic and surgical lasers to name a few) and other industries.
Multiple mounting, fitting and port options are available. The FS-380P will perform at any orientation because it utilizes a small, strong spring that is not affected by the mounting position of the flow switch.
Gems' FS-380P is ready to serve your most critical applications!