Infrared diagnostic systems help inspect electrical equipment like panels, transformers, switchgear, and other electrical systems. It uses thermal imaging to help detect if there is overheating in areas that are not visible to the human eye, which could be a sign of a potential failure. When these infrared diagnostic systems are manufactured in the semiconductor industry, they require coolant (air or liquid) to prevent the sensitive electronics from overheating themselves. In this case they use high-purity air to cool the infrared imaging sensor during manufacturing.
Challenge: Having a reliable flow switch that can work with high-purity air and have a fast response time to loss of air flow.

Solution: FS-925 Air Flow Switch

Gems FS-925 Series Air Flow Switch uses a spring-loaded piston to detect positive flow with great precision. It has a 90-degree flow path and is constructed of either 316 SS or Brass, making it a rugged switch. The FS-925 air flow switch reacts from direct fluid flow and will not show false positive flow indication that may happen with sensors using indirect sensing methods such as pressure measurement. This is vital for use on a coolant line as the flow switch needs to react rapidly in the event of low air flow.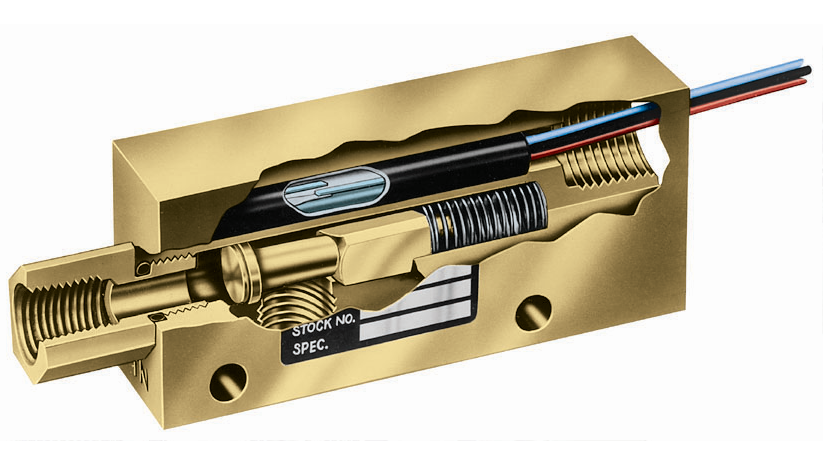 It comes standard with ¼" FNPT ports making it compatible with many air lines or easily can accept an adapter. This piston-based flow switch provides reliable and consistent performance with repeatability within 1%! This is crucial for an air coolant line because if the imaging sensor loses air cooling, the unit would quickly overheat and suffer irreparable and very costly damage.
With set points ranging down to .5 SCFM for 5 PSI lines and up to 25 SCFM for 100 PSI lines, the FS-925 can handle a wide range of flow setpoints. In addition, the FS-925 is also UL approved explosion proof in case the flow switch needs to be in a hazardous location.
All these features ensure the FS-925 is an excellent fit to work well in air coolant lines keeping equipment from overheating!