Most Chemical and Industrial plants will have several safety showers and eye wash stations for emergency flushing of harmful chemicals or gases. Should an accident occur when a worker is alone, they may be able to use the shower or eye wash but be unable to summon for help. By installing a flow switch in the water line to the flush station, the switch contacts will close on increasing flow and the signal from the reed switch can energize a warning light and sound a bell to alert supervisory personnel.
Challenge:  Having a reliable flow switch that can handle the high flow of a safety shower or eye wash station and also provide minimal back pressure.
Solution:  FS-200 Series Flow Switch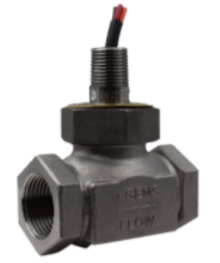 Gems FS-200 Series in-line flow switch is a rugged sensor constructed of either 316 SS or Bronze. It's shuttle-based design allows for an efficient flow path assuring low line pressure drop. This is crucial for a high flow safety shower or eye wash station as the proper flow is needed to wash away any hazardous material quickly.
With port sizes ranging from ¾" NPT up to 2" NPT, it can handle flow rates down to ½ GPM or up to 50 GPM. In addition, once the setpoint is achieved, it has an excellent repeatability of 1%! This repeatability ensures the FS-200 flow switch will indicate the emergency station has been activated so emergency personnel can quickly aid the injured worker.
If your flow rates can vary and you'd like to have the ability to adjust your setpoint, the FS-200 also comes available in three adjustment ranges.
All these features ensure the FS-200 is an excellent fit to work well in safety showers and eye wash stations, helping keep people safe.