A medical OEM designer wanted to design a waste management system that would fit into their existing footprint while also maximizing the amount of waste held by the bottle. They also needed to protect operators from biohazardous material and reduce the amount of time spent on the task of waste removal.
The solution?
Engineer-to-Engineer collaboration between Gems and our customer (a leading medical device OEM). Working closely with our customer, Gems developed a system to consolidate multiple waste lines into one vacuum waste system. To do this, we integrated a dual level sensing system and vacuum pump for waste removal without human intervention. Additionally, we optimized the design to allow for zero headroom in the machine.
The biggest benefit?
The customer uncovered opportunities to maximize design robustness and optimize the end-user's experience. They eliminated operator interaction, reduced the time-consuming task of waste removal and reduced overall leak points.
Because Gems is a designer and manufacturer, we can pull from our broad sensors line and deep portfolio of technologies to drive innovation and design enhancements: the waste management system design integrates pressure (vacuum) transducers, integrated level controls, quick-disconnect inlet fittings and a siphon tube.
The process?
At Gems Sensors, we proudly have all the expertise needed to design and manufacture under one roof. Our process begins by working with you – engineer-to-engineer – to solve your challenge. We meet with you to define project goals, user requirements and functional specifications to develop proof of concepts to demonstrate product feasibility. We then combine our decades of design experience and extensive product breadth to help you bring out your best design.
In the next phase, pre-launch, we ensure your design is ready for production by validating the system design to your specification and setting up a dedicated pilot production team. Lastly, it's time for manufacturing where we provide you with a turn-key solution that is high quality and highly repeatable. To execute our robust commercial manufacturing process we have four fully-equipped ISO certified manufacturing sites (IS0 13485 certification at U.S. headquarters site).
Gems has been addressing customers' toughest challenges and providing solutions for over 60 years when a "standard product" just won't do.
We've worked to overcome challenges in a variety of applications, such as:
Thermal control systems
Waste handling systems
Gas delivery systems
Liquid delivery systems
Fluid mixing systems
Ink delivery and conditioning systems
Inventory management systems
Want to see more case studies? Download our Fluidics Systems Brochure!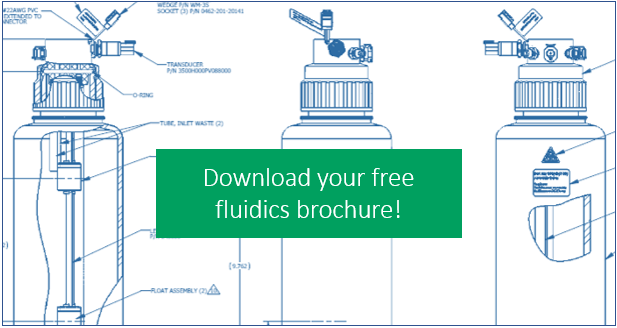 Would you like to collaborate with us? Request your free engineering consultation now and we'll connect you with one of our fluidicengineers to review your project goals and application details. Based on the consultation, the next step would be a free fluidic system discovery workshop. In this workshop, a dedicated Gems team reviews your project goals, user requirements and functional specifications; next Gems will create poof of concepts and prototypes to demonstrate product feasibility.