Smart faucets pair with smart speakers (Alexa, Google Assistant) to allow users to turn on their faucet with their voice and control how much water is dispensed. "Alexa fill my water bottle with 16 ounces." This enables hands free activation of your faucet with the power of your voice. No more sticky faucets or measuring cups required!
Challenge:

 
Controlling the amount of
liquid dispensed from the faucet requires the system to know the flow rate of the water through the faucet.
However, fitting a flow sensor into a Kitchen faucet without increasing the footprint or altering the aesthetic of the faucet is difficult. In addition, being accurate enough to measure down to small amounts, and having NSF61 approval for drinking water is a challenge, until now.
Solution: 

FT-100 Flow Turbine Insert

 
Gems FT-100 Flow Turbine insert has NSF 61 approval for use in drinking water applications. It has a small footprint, measuring less than 1" long and less than ½" wide, it can fit within existing faucet designs with little to no design change. This NSF 61 approved flow sensor has a 5% accuracy reading and an even better repeatability of within 2%, measuring the flow rates down to the ounce is no problem for the FT-100 Flow Turbine Insert.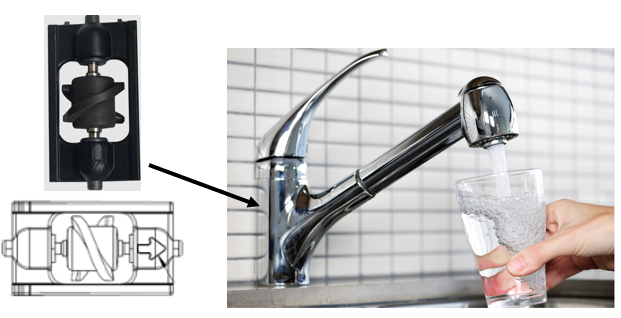 Gems FT-100 Flow Turbine Insert is an extremely cost-effective solution in the competitive kitchen faucet industry. This Flow Turbine is a smart addition to the ever-increasing smart home products offered for today's consumers.
Additional Sensor Options for

Smart Faucets

: