Hydraulic level systems on Recreational Vehicles (RV) automatically level the vehicle when it is parked. This ensures a more comfortable living experience within the RV. Nobody wants to spend valuable vacation time manually leveling the RV after a long drive! In addition, no one wants to spill their drink from an unlevel table!
Challenge:  Finding a pressure sensor that can withstand high vibration, handle high moisture areas, and be cost effective to work within a Recreational Vehicle application.
Pressure Sensors come with a variety of IP ratings, mounting styles, wetted materials, and electrical connection options. There are numerous pressure sensors on the market that come close to fitting the requirements, but many are expensive, too big, or difficult to source.
Solution: Sputtered Thin Film Pressure Sensors for Recreational Vehicles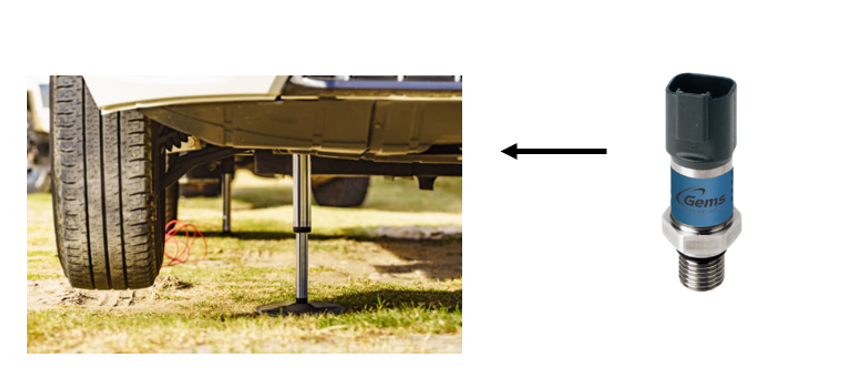 Gems' strain gauge pressure transducers using sputtered thin film technology offer several advantages over other types of pressure sensors. They have a high degree of accuracy, stability, and sensitivity, and they can measure pressure over a wide range of pressures and temperatures. They are also compact, durable, and can be easily integrated into electronic systems. Our 3100 Series and 1100 Series pressure sensors have stainless steel wetted components, a small footprint, an IP67 rating to withstand the elements, and have been tested to withstand up to 40 Gs of vibration! These standard features and specifications create a robust pressure sensor ensuring the hydraulic system is working correctly and efficiently.
If you are looking for a reliable and cost-effective pressure sensor that your customers can depend on, look no further.
Additional Sensor Options for Automatic Hydraulic Level Systems:
XLS-1: Ultrasonic level switch for hydraulic reservoir
XM/XT-800: Continuous level transmitter for hydraulic reservoir
XM/XT-700: Continuous level transmitter for hydraulic reservoir