Agricultural sprayers utilize many different types of fluids and chemicals that are sprayed on crops. These fluids fertilize the crops to help them grow as well as keep pests off the plants to keep them healthy. The sprayer machine utilizes many automation features (fluid mixture, rate, pressure, etc.) for each area of the field that they are spraying. With that, the equipment manufacturers require feedback on the pressures in the fluid system to maintain the proper ratio of the fluids and ensure adequate coverage as well as amount.
Challenge: Finding a reliable pressure sensor that is compatible to varying agricultural chemicals and the harsh environment
Being used with varying chemicals, a pressure sensor with a sub-par wetted parts characteristic (the area of the sensor that actually contacts the fluids) can be attacked by the chemicals used in Ag Sprayers. For example: Nitrogen, Potassium and other chemicals are utilized. The wetted parts of the pressure sensor are required to be fully compatible with these chemicals.
Also, the environment of the Ag Sprayer can vary from very hot to very cold along with high shock and vibration. Living on the outrigger arm of the sprayer and riding through the fields, the pressure sensor will see lots of bumping around, so it needs to be robust.
Solution: Gems Sensors 1100 Series Pressure Sensors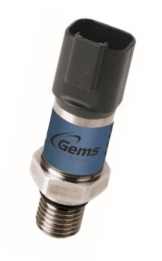 Based on Gems Sputtered Thin-Film technology and utilizing a 17-4 PH Stainless Steel sensing face and pressure port (the "wetted parts"), the 1100 Series Pressure Sensors are the perfect solution for Ag Spraying applications. The 17-4PH SS has a wide compatibility characteristic so it will not be affected by the chemicals used while spraying crops. The Thin-Film technology is very robust against high shock and vibration and has been tested to MIL-STD-810E and IEC 68-2-32.
Exceptional Long-Term Stability = No need for costly field calibration or replacement

Thermally compensated = Consistent performance under wide temperature conditions

17-4 PH Stainless Steel Sensing Element = wide media compatibility

304 Stainless Steel body = Able to with stand harsh chemicals and gasses

Sealed to IP67 = resists heavy water spray, power-washing

Enhanced RFI, EMI, and ESD Protection = Clear Uninterrupted signal in harsh electrical environments

Computer Controlled Calibration = High 1:1 Interchangeability from unit to unit

Passes 40G Vibration test and IEC Free Fall test = Rugged design to handle excessive shock and vibration conditions