A locomotive train needs to operate in the widest of environmental conditions: from the hot and dryness of Arizona to the cold and icy conditions in northern Norway. The locomotive train relies on it's air compressors and braking systems to work reliably every time, no matter conditions. If a pressure switch monitoring the air compressor does not switch at a set point high enough, not enough
Challenge: Finding a reliable pressure switch that will have no set point drift in cold conditions
Pressure changes with temperature. As the environmental temperature drops, the set point of a traditional pressure switch can shift and actually not change states when it should. For example: the air compressor on-board a locomotive needs to turn on as pressure dips below 50 psi to keep enough air in the system to ensure the air-operated devices operate correctly. If the air pressure in the reservoir drops below 50 psi and the air pump does not start, the lack of air can cause a failure in the train's operational systems and halt the train.
The PS72 series pressure switches are designed to operate correctly all the way down to -40°C / -40°F ambient temperatures. They utilize what is known as a Kapton coated polyimide diaphragm. This film type diaphragm does not get stiff and unyielding as the temperature gets below -23°C / -10°F like the traditional PS71 pressure switch does. With this low temp operating temperature capability, even if the locomotive is operating in -40°C / -40°F temperatures, the operator can rely that accurate pressure set points will be maintained.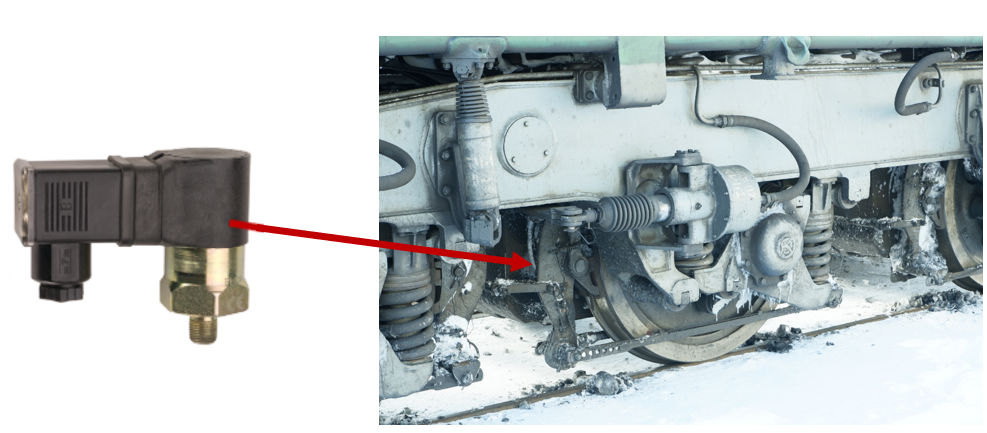 Shown is the low temp PS72 Pressure switch with the HCR Electrical Connection Option. This allows for a secure cable entry as well access to the set point, if needed.
Other Adjacent Sensor Products: