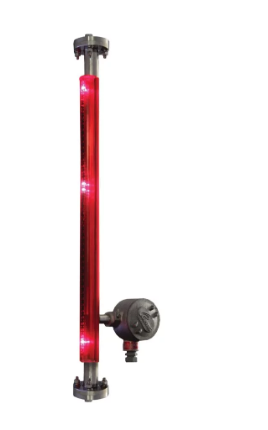 We're shining the light on our new product: LED SureSite®. An update to our line of SureSite® visual indicators, this new SureSite® includes LEDs that make it easy to see the level of your tank in low light and dirty environments (where traditional units would get covered or be invisible). In fact, the bright LEDs provide a 270 degree viewing range, making it easy to view your LED SureSite® from virtually any vantage point and in direct sunlight.
Built to withstand the most difficult environments, the LED SureSite® can withstand constant vibrations, freezing temperatures, rain storms and wash downs. Another advantage? There is no need to double up and purchase additional transmitters to bolt onto your visual indicator. LED SureSite® is both a continuous level indicator and a transmitter in one product!
Looking for a bright solution for your most demanding applications? You've found it. From diesel locomotives, to generator fuel tanks and commercial marine applications, the LED SureSite® is designed to transmit and display continuous level where others fail.
Click here to download the LED SureSite® product brochure to learn more!
Already have one of our mini SureSites®? Upgrade kits are available. Contact your sales representative with any questions.