Introducing Gems' New CPS-100 Series Pressure Sensor


Available in a compact design and constructed from a Stainless-Steel housing, the Gems' CPS-100 Series Pressure Sensor works in varying fluids and gases to provide you with accurate feedback. It has been value-engineered to incorporate a rugged and dependable design. No programming or adjustments are needed. Simply install the sensor, connect your electrical circuitry and away you go.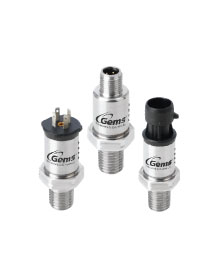 Value to Customers:
New compact, high-performing sensor is ideal for rugged industrial applications requiring high levels of reliability, & consistency at unbeatable price-to-performance.  

Heavy-duty construction includes all-stainless steel wetted parts, able to handle high shock and vibration conditions. 
Light-weight and compact package size supports applications where weight and space additions are limited. 

Exceptional temperature specifications and robust EMI provide stable readings under pressure and temperature with the ability to survive in harsh electrical environments. 

This series offers common pressure ports and electrical connectors for ease of adaptability.

Design has been built with consideration for leading pump, compressor, and power generation OEMs, and system piping architects/constructors.

Features of the Gems' CPS-100 Series Pressure Sensor:
Pressure ranges: Starting at 0 to 150 psi (0 to 10 bar) up to 0 to 1,500 psi (0 to 100 bar)
Accuracy: 0.25% Full Scale
Proof pressure (over pressure) rating: 2 times Full Scale
Burst pressure rating: 3 times Full Scale
Wetted parts: 17-4 PH SS
Electrical Connections: M12, Packard, Min-DIN 9.4 mm
Pressure Ports: ¼" NPT, G1/4, G1/4 with SoftSeal, 1/8" NPT, Schrader SAE #4
Small footprint: most models are only 2 inches (50 mm) long
Lightweight: most models are under 2 ounces (57 grams)
Lifetime: designed for more than 100M cycles
Temperature range: -40° F to +185° F (-40° C to +85° C)
Enclosure: Sealed to IP67
Approvals: CE, RoHS
Gems CPS-100 Series Pressure Sensor can be can be used in a wide range of OHV, Compressor, and Industrial Applications:
With 0.25% accuracy, stainless steel design and a competitive price, the new Gems CPS-100 Series Pressure Sensors are the best solution for your pressure sensing applications.
Sign Up for CPS-100 Series Pressure Sensor Updates