An Overview of Visual Level Indicators:
How Visual Level Indicators Work:
SureSite Visual Liquid Level Indicators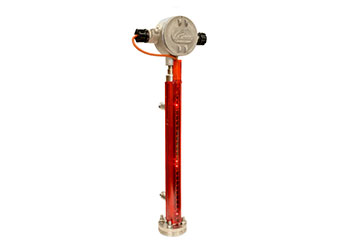 A visible level gauge that is a safe alternative to cloudy, breakable sight glasses.
High Visibility

- Brilliantly colored flags are easy to read, even at great distances. The water level indicator is isolated from the measure media; therefore, SureSite® water level gauges can be used where sight glasses are not even a consideration.

Durability

- Stainless steel, PVC, CPVC, PVDF, Hastelloy or other exotic housings, whatever the media requirements, provide years of maintenance-free service.

Environmentally Safe

- Monitored liquid is contained inside a pressure-tight housing.

Efficient

- Continuous level indication without external power.

Electronic Control

- Attach optional level switches and/or continuous level transmitters to extend capabilities beyond those of a simple sight glass.

Great for different liquids

– SureSite® is a great level gauge for these applications: oil level gauge, oil level indicator, water level indicator, water level gauge and more!
If you don't see materials or configurations on this site to suite your needs, please give Gems a call for custom application assistance.
DipTape Oil Level Indicators & Oil Tank Gauges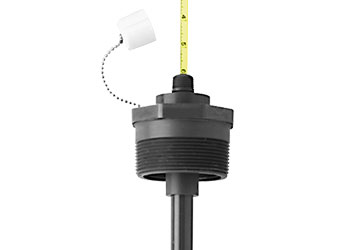 These manually-operated indicators are compact and completely self-contained. They need no electricity to provide continuous indication of liquid level in storage tanks and vessels. DIPTAPE™ indicators are ideal for quick, periodic readouts that are accurate to 1/16 in. or 1 mm; especially in remote areas where power is unavailable, or undesirable. Only the float and stem contact the liquid, so the readout tape is always clean and readable.
Custom-configurable DIPTAPE™ indicators are available in a broad range of materials and mounting types in lengths to 6 ft (1.8 m). For lengths 6 to 10 feet consult factory.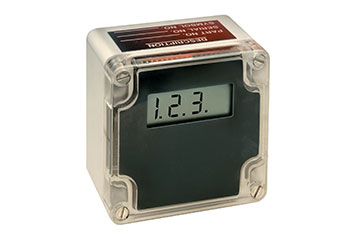 Gems delivers the answer for challenging fluid measurement and monitoring with our new ultrasonic UCL Series Continuous Non-Contact Level Transmitters. These accurate and reliable sensors are designed for the most difficult fluids to monitor — including ultrapure, dirty, coating, scaling or corrosive types.
Visual Level Indicator Applications and Industries:
Visual level indicators can be found in the following industries: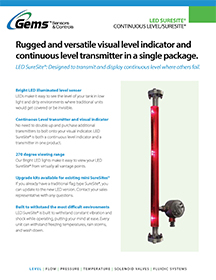 LED SureSite® Product Guide
View the wide range of competitive advantages the LED SureSite® has to offer.