INTEGRATED SENSORS
TurboFlow® Integrated Sensor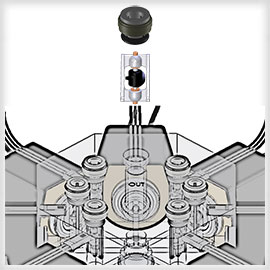 PRODUCT DESCRIPTION:
The TurboFlow® is ideal for integration due to it's small & adaptable footprint. The base technology is a highly accurate and repeatable Hall Effect turbine flow sensor designed for low flow OEM applications. TurboFlow's small turbine is not influenced by pressure changes typical of aging pumps or filters and reacts quickly to on/off dispense cycles.
Learn More About TurboFlow Sensors >
FEATURED DOWNLOADS:
Orientation independent
Low Flow Rates of .2 to 4 GPM
Accuracy ±2% of Reading
Critical coolant monitoring: Lasers, Power Supplies
Chemical dosing: sterilization, water purification, Additives, Distilling, Well head, Agriculture
Engine efficiency: Fuel consumption, additives
Integrated Sensor Products
Integrated TurboFlow Sensor
Resources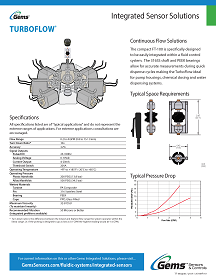 Gems Sensors Catalog, Integrated Sensor Solutions - TurboFlow®
View the Gems Sensors & Controls TurboFlow integrated sensor catalog page.