INTEGRATED SENSORS
RotorFlow® Integrated Sensor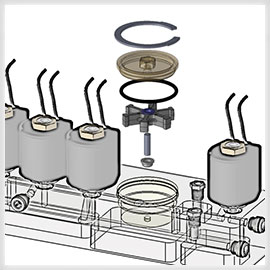 PRODUCT DESCRIPTION:
Paddle wheels have long been used to aid in the optimization & troubleshooting of complex coolant loops. The visual indication of the RotorFlow® Integrated Sensor lets technicians know valves are firing correctly and lines are clear while the sensor output enables controllers to dynamically optimize your system's performance. It's accurate, robust & debris tolerant design mates well with valves, temperature and pressure sensors within a liquid sensing and control module..
FEATURED DOWNLOADS:
Adds visual flow indication to your system
Scalable Flow range
Multiple materials available to ensure media compatibility
Debris tolerant
Dynamic rotor guards against false actuation
Critical coolant monitoring: Lasers, Power Supplies, Guidance Systems, MRI gantries, X-Rays, Semiconductor
Warming & cooling blankets
Deicers
Washdown
Service carts
Integrated Sensor Products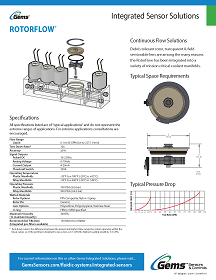 Gems Sensors Catalog, Integrated Sensor Solutions - RotorFlow®
View the Gems Sensors & Controls RotorFlow integrated sensor catalog page.