Beyond the component
Gems Sensors has been addressing our customers' toughest challenges for over 60 years. When a "catalog part" just won't do, we offer a carefully designed custom engineered system. We collaborate with you – engineer-to-engineer – from start to finish (concept and feasibility, design and development, pilot production/launch and commercial manufacturing) to create a solution that will not only address your challenge but also enhance your product. And, with decades of sensor customization experience and hundreds of collective in-house years of engineering experience, Gems Sensors is uniquely equipped to solve even the toughest fluidic management challenge.
Uncover the benefits of a customized fluidic system:

Accelerate Time to Market
Unlock innovation potential and reduce the number of design iterations through early-stage collaboration.

Utilize Gems Sensors rapid design process throughout all phases of design from concept through production.
Solve OEM Challenges
Design for manufacturing and reduce supply chain complexity through reduced components.

Reduce the footprint and complexity of your fluidic system.
Optimize End User Experience
Improve equipment reliability and safety through higher precision, reduced leak points and improved total cost of operation.

Reduce downtime via service-friendly design and modular plug-and-play sub-systems.
Applications
Gems Sensors works to overcome challenges in a variety of applications, such as:

Thermal control systems
Waste handling systems
Gas delivery systems
Liquid delivery systems
Fluid mixing systems
Fluid delivery and conditioning systems
Inventory management systems
Design and Manufacturing Services

This collaboration continues through design and development where the design is optimized based on your application and end-use requirements. The optimized design then goes through Gems' pilot production process where dedicated cells are utilized to quickly assess and validate the design ahead of our robust commercial manufacturing process.
Learn more about design and manufacturing services >

Sign Up for a Free Fluidic System Consultation
Gems works with you – engineer-to-engineer – to develop custom fluidic solutions
Are you struggling to solve a challenge with your fluidic system? Do you lack internal fluidics expertise? Gems can help! With over 60 years of experience, we've tackled out customers' toughest challenges and offered carefully designed custom engineered systems when a "standard product" just won't do.
Would you like to collaborate with us? Sign up for a Gems Fluidic System consultation. What to expect:
Gems engineers will reach out to you to discuss the project goals, user requirements and functional specifications.
Proof of concepts and prototypes will be developed to demonstrate product feasibility
If you decide to pursue a customized fluidic system, we'll utilize Gems' rapid design process throughout all phases of design from concept through production
Sign up today to learn more!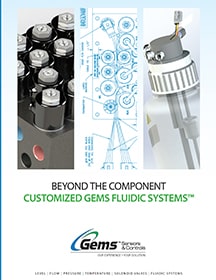 Fluidic Systems Brochure
Understand the many solutions Gems Sensors and Controls can provide for various applications.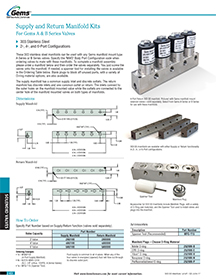 Gems Sensors Catalog, Stainless Steel Manifold
View the Gems Sensors & Controls Stainless Steel Manifold catalog page.