Sterilization in a hospital, dental or any medical environment is extremely critical. Instruments must be brought up to very high temperatures to kill any bacteria and viruses present on the used instruments so they are ready for the next patient. This sterilization is typically via a very high temperature steam spray along with specially formulated chemicals to ensure that all microorganisms, spores, fungi, etc. are eliminated leaving the instrument sterile and ready for use.
In the sterilizer, sensors will monitor the steam pressure of the steam generated to ensure that it stays in the ideal ranges as defined by the strict sterilizing process. The switch will provide an output when the pressure is low, triggering the pump to start. Conversely, the switch will provide an output (or change of state) when the pressure is high, triggering the pump to turn off.
Challenge:
A robust pressure
switch
that can w
ithstand
the
high temperatures
of a sterilization process
and have accurate switch points
Traditional mechanical pressure switches have a difficult time staying within specification when it comes to high temps like steam. The elevated temperatures can shift the switches' set points leading to a less than ideal sterilization process.
Solution:
The
3
6
00 Series
Solid State
Pressure
S
witch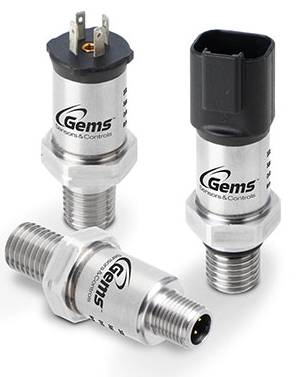 Gems Sensors compact 3600 Series Solid State Pressure Sensors have a high operating temperature range (+105C) making it ideal for steam environments. Based on the tried and true 3100 series Thin Film technology, the 3600 can also withstand high vibration and shock, 100M operating cycles with 2x to 3X over-pressure capability.
The 3600's set points are set at the factory and can also be programmed to perform functions such as:
Active High:

O

utput is active when the pressure is above the set

point

Active Low:

O

utput is active when the pressure is below the set point

Active Window:

O

utput is active when the pressure is above the lower set point and below the upper set point

Inactive Window:

O

utput is active when the pressure is below the lower set point and

above

the upper set point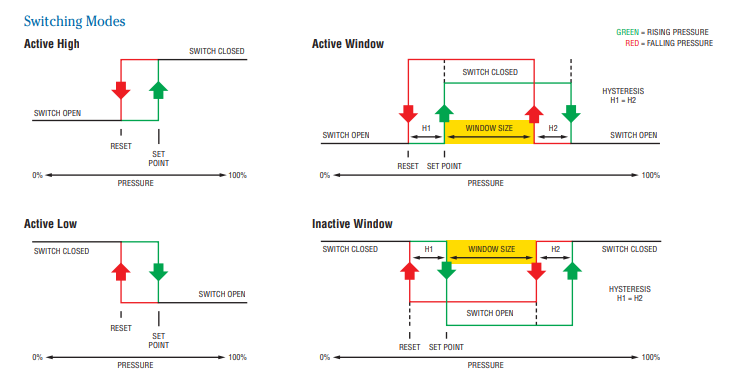 Another significant benefit of the 3600 series solid state pressure switch is the ability to have the set points and modes programmed via an optional programming box: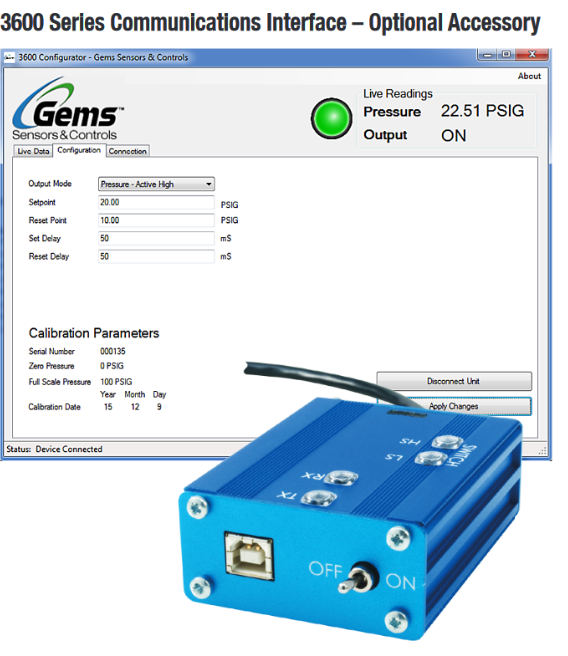 The programming box can display the sensors' serial number, it's current state as well as the current set and reset parameters. The set points and modes can all be modified via the programming box/ PC software as well as custom time delays. Time delays are useful if you a have an application that might hover around a set point and cause a standard pressure switch to "toggle). Or perhaps you desire to wait a period of time (for example: 2.35 seconds) AFTER a set point is reached to then send the output signal from the sensor.
To learn more about the 3600 Series view the pages below:
Adjacent products:
XLS-1 liquid level sensors: fluid reservoir levels
ELS-1100 liquid level sensors: fluid reservoir levels
XM/XT-700 continuous float sensor: water/fluid tank level
LS-700 float switch: water/fluid tank level
LS-3 top float switch: water/fluid tank level
LS-7 side float switch: water/fluid tank level
Adjacent Markets: