On today's modern farm there are numerous pieces of equipment that aids the farmers being able to tend to larger amounts of land and thus grow more food. Farm equipment may include harvesters, cutters and shredders, loaders, planting equipment, sprayers, and tillers to name a few. All of these large vehicles typically run off diesel fuel, so they require a reliable level sensor. In addition, many farms will have their own diesel storage tanks to refill their equipment right on the farm. Accurate level measurement is crucial so they can quickly refuel their equipment and limit any downtime. Farms also require additional storage tanks for water for their livestock or crops. Reliable level measurement is needed for these water storage tanks as well.
Challenge: Finding a cost-effective, easily configurable non-contact level sensor that can handle a diverse sensing range, and work efficiently in multiple liquid types.
Solution:  Gems Non-Contact Radar Level Sensor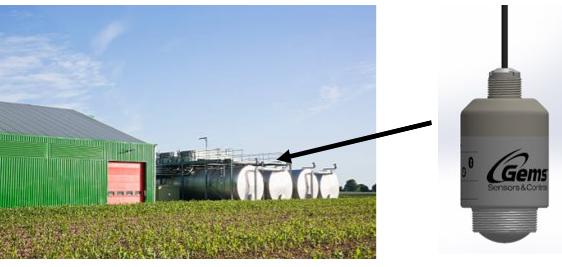 The Gems Radar sensor is a non-contact continuous level sensor. Radar technology works by sending out short microwave signals toward the liquid via the sensor. The microwave signal then hits the liquid surface and bounces back toward the sensor. The sensor utilizes the time-of-flight principle which uses the known speed of the microwave, and the time it took for the signal to return, divided by two (since it had to travel down to the liquid and then back up to the sensor) to determine the distance between the liquid level and the sensor. Since most level is based on the height of the liquid, not the height of the non-liquid (air), the air height is subtracted from the total tank depth to determine the liquid level!
Gems Non-Contact Radar Sensor is a great fit in agriculture equipment for several reasons. With an Ingress Protection rating of 68, it can be installed on the exterior of these tanks that are exposed to the elements with no risk of moisture intrusion. The Gems radar sensor is constructed of PVDF which is resistant to corrosion and is not affected from harmful UV light exposure. With a 2" NPT mounting it can easily be mounted in one of the ports found on top of these water or fuel storage tanks.
Due to the large size of these storage tanks a float and stem-based design is not practical for this application. In addition, with a submersible pressure sensor you need to worry about chemical compatibility of the cable and sensor head. These also require calibration adjustments between different medias which can be a challenge. Gems non-contact radar level sensor does not need adjustment when used with different medias and its non-contact design eliminates the need to worry about chemical compatibility. In addition, Gems radar level sensor can also work with bulk solids like grain! No longer are mechanical point level switches needed to determine the level of grain in the silo! With a maximum process temperature rating of 80 degrees Celsius and full vacuum to 43 PSI rating, it can withstand extreme applications.
Below are additional benefits of Gems Non-Contact Radar Level Sensor:
Gems

radar sensor

comes standard with Bluetooth® configuration/setup

. This saves sourcing and inventory costs as it reduces inventory management from multiple

specific transmitters for each different tank depth down to one!

Gems

Radar

Sensor

is a compact design which

helps reduce

expensive shipping costs and transit times.

Non-contact design means no media ever

comes in contact with

the Radar sensor. This eliminates the need to worry about material compatibility between the media and sensor components.

The non-contact design is by default a no moving parts solution, which eliminates the potential for any mechanical failures from a float

or probe-based

sensor.

Radar through the air technology is a very accurate sensing technology and can detect liquid level within 5mm, with no effect on its accuracy based on changes in temperature or pressure.

Radar technology is not affected by condensation or dust in the air like ultra-sonic based sensors.
The above characteristics make Gems radar sensor an ideal solution to work with agriculture equipment. With standard outputs including 4-20mA, and Modbus, it is compatible with almost any type of controller or display. Gems Radar sensor also has built-in Bluetooth® capability for simple configuration. During setup it has the ability to sense obstructions within the beam angle and ignore them. This increases the potential installation areas as there is no need to work around tank obstructions like pipes or other sensors. This helps save countless installation man hours and eliminates the need to make costly tank modifications.
Gems Radar Level Sensor is an excellent match for agriculture applications.
XT-800 medium float level transmitter

UCL-520 ultrasonic level transmitter