At Gems we refer to our pressure switches as solid state pressure switches rather than electronic pressure switches:
So, what is the difference?
The term solid state pressure switch is used to denote no moving parts. i.e. A pressure switch could include a relay on its output (a mechanical switch driven by an electrical signal) or a semiconductor-based switching element (a high-power transistor or FET) which has no moving parts. A solid state pressure switch would therefore be a switch using the semiconductor switching component.
Electronic pressure switches such as our PS98 series have the option for either a relay output or a semiconductor/ solid state switching element.
Solid State Pressure Switches:
Offering exceptional accuracy and stability, solid state pressure switches employ sophisticated sputtered thin film sensors. They provide excellent repeatability in high shock and vibration environments and are superior to electrical switches in high frequency cycling applications. An optional Communications Interface enables Set Point, Reset Point, and Time Delay programming in the field.
Solid state pressure switches may have one or more switch points. They not only open and close the pressure switch circuit but include digital displays and provide analogue or digital output. In comparison to electromechanical pressure switches, they have much longer longevity.
3600 Series Pressure Switch
Proven Thin Film Technology provides high levels of performance and stability. This pressure switch is offered in a broad range of operating pressures and is available in 11 pressure ranges from 0-1 bar (0-15 PSI) to 0-1000 bar (0-15,000PSI). The 3600 series pressure switch is characterized by its compact size and its ability to operate over a wide temperature range of -40˚C to +105˚C (-40F to 221F), which offers flexibility for a host of applications
The 3600 is highly resistant to shock and vibration, which makes it the ideal solid state pressure switch for demanding industrial applications and in off highway vehicles. It is hermetically sealed, which allows the 3600 to handle high temperature and oxygen cleaning; making it ideal for medical gases and sterilization applications. Additionally, its leak-free operation ensures accurate monitoring, making it a great choice for applications related to fire suppression.
High cycle pressure applications
Broad frequency response
Very accurate set points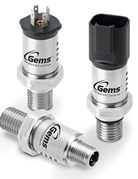 For more information on the Gems 3600 Solid State Pressure Switch: View Our 3600 Solid State Pressure Switch Catalogue Page
PS98 Series Pressure Switch
Answering the demand for solid-state switches, Gems proudly offers the PS98 pressure switch. Built from our proven CVD and ASIC design, the PS98 solid state pressure switch offers greater accuracy in rough environments. This switch is an ideal alternative to electromechanical types when cycles exceed 50 cycles/minute and broad frequency response is needed. In addition to a modular design, a host of pressure ports and electrical connections are available. Switch and switch-back points are factory set per customer specification.
Suitable for:
Off Highway
Mobile
Demanding Applications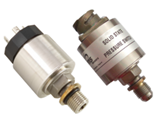 For more information on the Gems PS98 Pressure Switch: View our PS98 Pressure Switch Catalogue Page
Gems Offers a wide range of Pressure Products to view more click here